Montecristo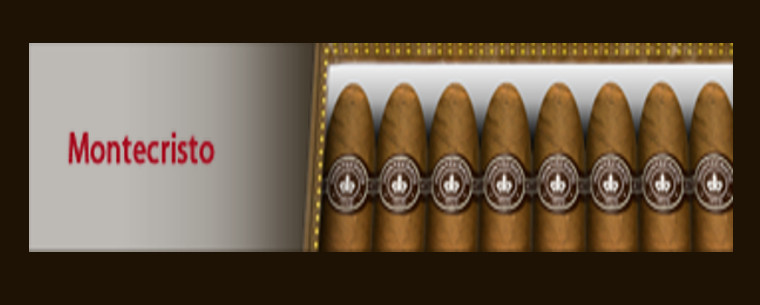 Alonso Menendez bought the Particulares factory in 1935, and after gaining ownership he immediately named it Montecristo. The name was inspired by a novel titled The Count of MouteCristo by Alexandre Dumas and it was very popular among the cigar rollers. Menendez founded a company in 1936 called Menendez Garcia y Cia. The Montecristo brand increased success led to the purchase of the H Upmann factory from J Frankau SA in 1937 where he then transferred production from the Particulares factory to the H. Upmann factory. John Hunter Morris and Elkan Company Limited were the only distributors of the Montecristo cigars in Britain while J. Frankau was the only distributor of the H. Upmann in the UK. Eventually both firms merged to become Hunters & Frankau. This company today is the only importer and distributor of Cuban cigars in the UK.

The Alfred Dunhill Company made a lot of effort to promote the Montecristo brand and these efforts paid off for it gained a lot of popularity worldwide. In 1961 there was a revolution in Cuba and the cigar industry was nationalized, it was during this time that Menendez and Garcia fled to the Canary Islands and restored the brand, however, they were not able to continue because of copyright disputes with Cubatabaco. In the mid-70s production was moved to La Romana in the Dominican Republic. With Menendez and Garcia gone, Jose Manuel Gonzalez who was a master cigar roller was promoted to floor manager and created new sizes of the brand. In the coming years Montecristo continued to gain popularity and has continued to produce new sizes and new brands. The following are some of the Montecristo brands that are largely popular among cigar smokers;


Montecristo Media Noche
This cigar is the first and only one that uses a maduro wrapper. This hand made cigar hails from Dominican Republic and it is medium in body. It features a dark Connecticut Broadleaf maduro wrapper and the filler tobaccos are from Nicaragua, Dominican Republic, and Peru. The cigar has sweet and spicy flavors. The pre-light aroma gives off notes of leather, earth, and espresso and as you continue to enjoy this magnificent cigar you will detect hints of pepper with vanilla and cream notes. The Media Noche blend of tobaccos and complex flavors could be regarded as overpowering, however, this is not the case for the flavors, and tobaccos are well balanced making the cigar smooth and enjoyable to smoke.


Montecristo Platinum
Born in 1935 the Platinum has a full-bodied flavor and features a Mexican Cubano wrapper and the filler tobaccos are from Dominican Republic, Nicaragua, and Peru with a Dominican binder. The blend of tobaccos provides a rich well-balanced smoke. The flavors featured include, chocolate, spice, leather, nuts with hints of berry and licorice. The Platinum is said to be one of the finest cigars available in the market today.


Montecristo Serie C Belicoso Cigar
The Belicoso features a dark oily Cameroon wrapper that gives off a delicious sweet aroma. The filler tobaccos hail from Dominican Republic, Peru, and Nicaragua with a Nicaraguan binder. The pre-lit has a leathery flavor and you will pick up notes of earth, wood, and a slight taste of sweetness. The smoke is very creamy and towards the finish the flavors acquire some spiciness. This powerhouse is surprisingly very smooth, not overpowering at it would seem, and it is best enjoyed while relaxing.


Montecristo White
This cigar boasts a Connecticut Shade Ecuadorian wrapper and has Dominican and Nicaraguan long filler with a Nicaraguan binder. The wrapper has been aged for several years enhancing the spiciness and full flavors. The Montecristo White Epicure on the other hand is an elegant looking cigar that features similar spice and pepper flavors but with additional hints of coffee with some sweetness. These cigars are best accompanied with a cup of coffee.